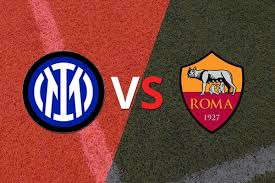 Players to Watch Out for the Serie a Clash of Inter vs Roma
Serie A returns to action after two weeks of the international break. Serie A back with some exciting fixtures for us this weekend. The game week in Serie A starts with league leaders Napoli hosting Torino. Then comes the most anticipated match of the Serie A game week. It's Inter Milan hosting Jose Mourinho Roma at San Siro. Inter and Roma have a bitter history when they face off and at times things do even look ugly on the field.
Inter Milan is having a tough season so far in Serie A. Nerazzurri has managed to win only 4 games out of 7. They have lost 3 games on the trot with their latest defeat coming up against Udinese who have been brilliant so far in the Serie A campaign. For just the 10th time in their history, the Nerazzurri have now beaten at least three of their first seven Serie A games. Only once before, 11 years ago, have they lost four straight games. Inter have struggled defensively. They have conceded 11 goals in 7 games averaging almost 1.5 goals per game. 
Just before the break, Inter Milan faced a surprising defeat to Udinese by 3-1 wherein they were outplayed by their opponents for 3rd time this season. With Inter wanting to come back into the Serie A title race they need to sort their mess and must start winning games with ease.
Coming into their opponents Roma they had a splendid month of August where they won two games and had a well-fought draw against the mighty Juventus. But things started to crumble at the start of September. Roma lost a few close games on the trot and now lies 6th in the Serie A table. Jose Mourinho would want to get his team back to winning ways and what better way than doing it in a tough away stadium like San Siro?
Both teams fell on a rare day when Italy's top teams suffered defeats shortly before the international break, so they will be eager to earn three points and keep up with the early pacesetters. In order to set the pace, the players need to step up. Thus with a big clash like Inter vs Roma on our horizon, we decide to pin down players who might play a crucial role in this high-voltage Serie A clash.
One of the crucial players for Inter Milan will be none other than Lautaro Martinez. He has been the backbone of Inter Milan for the past few seasons. He is carrying this Inter team along his back. With Lukaku still injured and not yet fit to resume the action a lot will depend on Lautaro.
He will have one of the best games of his career against a tough Roma team especially drilled by Jose Mourinho in defence. Mourinho's team is usually tough to break down and the opposition attackers need to play out of their skin to break Mourinho's wall of defence. Lautaro so far has been Inter's top scorer in Serie A. He has 4 goal contributions in 7 games. Martinez has managed to score 3 goals and assisted once in Serie A. He has also created 11 chances so far in this campaign for Inter. It is pretty evident if Inter plans of defeating Roma their main man upfront Lautaro needs to step up for the big time.
Another important player for Nerazzurri Will is Nicolo Barella. Barella has been impressive in Serie A so far. Last season he had a breakout season wherein he stepped up and performed. In the last Serie A campaign, Barella had 12 assists in 36 games played. This season too he has started well.
In 7 games so far he has 4 goal contributions. Barella has scored 2 goals and assisted 2 goals. Barella is a very key player for Inter Milan. He controls the midfield play with ease and his on-ball abilities are well known. Thus in this crucial tie against Roma Barella needs to have a big game and must provide dazzling passes to his centre forwards to score goals. 
Tammy Abraham since joining Roma initially on loan and then on a permanent deal has been a game changer for them. He has popped with an insane amount of goals for Roma over the course of 3 seasons so far. He was Roma to go in the 2019-20 season where he scored 25 goals and assisted 15. Last season he had an underwhelming season by his own standards.
He only featured in 22 games in Serie A owing to injury and managed to score 12 goals and 6 assists. This season he has started on a bright note owing to Dybala who has been his provider. With Dybala's involvement still under wraps owing to his latest injury concern Abraham will have to step up. 
So far this season he has managed to score twice and has one assist to his name in 7 games. With Roma facing a tough away game at San Siro. With Dybala in doubt to start the game, Tammy will be the main man for his team. He will solve the attacker upfront with a responsibility to convert the maximum amount of chances coming his way.
With doubts mounting over their star man Dybala for this game. Captain Lorenzo Pellegrini will need to step up to fill those big boots. Pellegrini has been the backbone of Roma's side over the years. He has been an instrumental performer in the games Roma has done well across the competitions. So far this season he has been quiet, in 7 games he has only managed to assist twice but soon this needs to change. Again today with a big clash against Inter looming captain Pellegrini will need to perform.
The post Players to Watch Out for the Serie a Clash of Inter vs Roma appeared first on The12thMan.