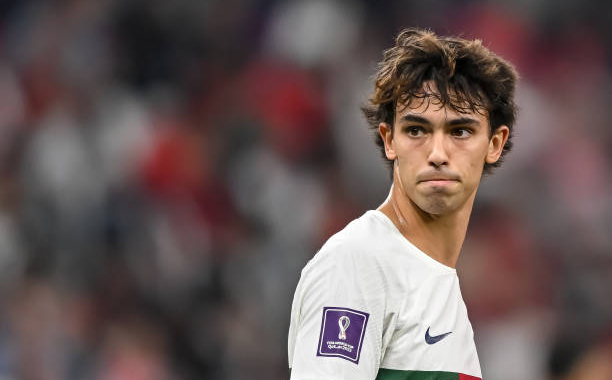 Manchester United Considering Loan Move For Atletico Madrid Star Joao Felix
Manchester United are considering a loan move for Atletico Madrid forward Joao Felix, according to a report in ESPN.
The Red Devils are looking to bolster their attacking department with a new signing in the upcoming January transfer window after the departure of Cristiano Ronaldo in November this year.
Manchester United terminated Cristiano Ronaldo's contract by mutual agreement in November, cutting short the Portuguese superstar's stay at the Old Trafford outfit. Cristiano Ronaldo had effectively burned bridges with Manchester United prior to that after he had sat down for an explosive interview with Piers Morgan in which he criticized Erik ten Hag and the Glazer family.
Man Utd are considering a number of options as they look to reinforce their attacking department, and Joao Felix is one of the options.
One option that Man Utd are considering is to table a loan offer to Atletico Madrid for Joao Felix, with an obligation to make the Portuguese's international move permanent in the summer.
Atletico Madrid chief executive Miguel Angel Gil Marin has already admitted Joao Felix could leave the Spanish club. Among the reasons Marin said to suggest Atletico Madrid and Felix could part ways was the relationship between the player and the club manager, Diego Simeone.
Joao Felix has not been a regular starter at Atletico Madrid in the 22/23 season. He has featured in 18 games across all competitions for Atletico Madrid in 22/23 but started in only half of those. He featured in the rest of the matches coming off the bench.
Although Man Utd are looking to bolster their attacking department, ESPN also reports Erik ten Hag has been told it is not certain a new player will arrive in the January transfer window.
Meanwhile, Manchester United currently occupies the fifth position in the Premier League points table. The Red Devils have earned 26 points from 14 matches – 11 points short of table toppers Arsenal.
The post Manchester United Considering Loan Move For Atletico Madrid Star Joao Felix appeared first on The12thMan.