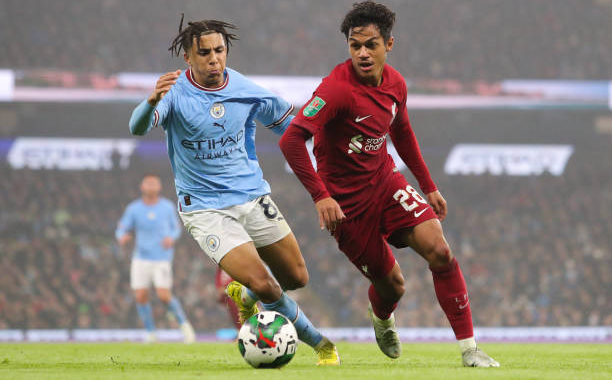 Pep Guardiola Lavishes Praise on Rico Lewis
Pep Guardiola has lavished praise on Rico Lewis after the youngster impressed in Manchester City's 3-2 win over Liverpool in the EFL Cup round-of-16.
Manchester City took on fierce rivals Liverpool in their first competitive game since the winter break and emerged on top, knocking the Reds out of the EFL Cup. Pep Guardiola handed Rico Lewis a start and the 18-year-old right-back featured throughout the game for Manchester City.
Against Liverpool, Erling Haaland sent Manchester City ahead just 10 minutes into the game. Liverpool restored parity through Fabio Carvalho in the 20th minute of the match. Manchester City then took a lead through Riyad Mahrez in the 47th minute before Mohamed Salah scored the equalizer a minute later.
However, Manchester City sealed the win with Nathan Ake adding his name to the scoresheet at 57 minutes. The result sealed Manchester City's progression to the next stage of the EFL Cup.
Speaking after the match, Pep Guardiola praised Rico Lewis, who he opined was the 'man of the match'. Pep Guardiola said he felt they could not have played the way they did against Liverpool without Rico Lewis.
The Manchester City manager also predicted that Rico Lewis will be an 'incredible' player for Cityzens in the next years. "I had the feeling that without him we could not play the way we played. Absolutely really impressed for a young age, today he played against a really senior team," Pep Guardiola said.
"It is not about with-the-ball intelligence, it is about without-the-ball. We had the privilege to almost announce that this guy will take a big decade, will be an absolutely incredible player for Manchester City in the next years because he is so intelligent, so humble, he understands everything in just one second and applies everything. We have an incredible right full-back with us for the next few years.
"He always plays good, but against Liverpool especially, Nunez, Salah, Thiago, and Robertson on his side. He is 18 years old. The way he plays was outstanding. He was man of the match."
Rico Lewis, who is a Manchester City academy graduate, made his senior team debut for the defending Premier League champions in August 2022.
Rico Lewis has so far featured in seven games across all competitions for Manchester City. He has also scored a goal for the English club.
The post Pep Guardiola Lavishes Praise on Rico Lewis appeared first on The12thMan.