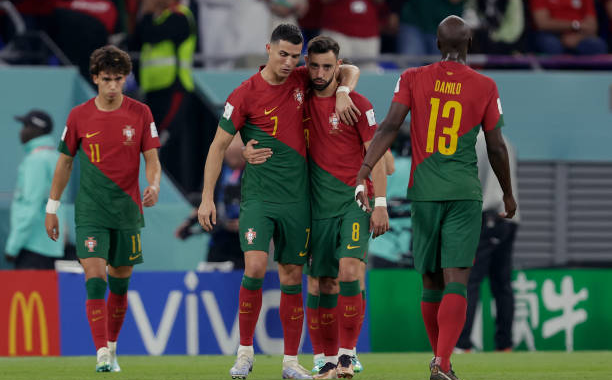 Three Winners & One Loser as Portugal Edge Past Ghana
Portugal: The European powerhouse got their FIFA World Cup 2022 campaign off to a winning start, getting the better of Ghana in a Group H fixture.
Ghana and Portugal squared off in a Group H fixture, and it was the latter who emerged victorious at the end of it. Portugal coasted past Ghana 3-2 to earn all three points and go top of the points table in Group H.
Portugal again took the lead in the 78th minute of the match as Joao Felix found the net after Bruno Fernandes slipped him in. The EURO 2016 winners then established a two-goal lead when Rafael Leao curled the ball into the far post in the 80th minute of the match. Ghana pulled one back in the 89th minute but they could not find the equalizer.
Cristiano Ronaldo
This is the fifth FIFA World Cup Ronaldo has played in. With his goal against Ghana, he also became the first player ever to score at five different editions of the men's World Cup. Ronaldo has scored in every World Cup tournament he has featured in. His goal against Ghana took his FIFA World Cup goal tally to eight.
Bruno Fernandes
Fernandes turned as the provider for Portugal's second and third goals, assisting both Joao Felix and Rafael Leao. For Portugal's second goal against Ghana, Fernandes slipped Felix in and the latter brilliantly sent the ball into the net. For Portugal's third goal, Fernandes forayed into the Ghana defensive third unopposed and played the ball to Leao, who curled it in.
Joao Felix
Felix started for Portugal in that game and scored the crucial second goal that helped Portugal to retake the lead. After receiving the pass from Fernandes, Felix made a smart finish to send Portugal 2-1 up.
Joao Cancelo
Cancelo delivered a sub-par performance for Portugal against Ghana. He was at fault for the second goal Ghana scored, failing to defend properly in the build-up to it. With Diogo Dalot waiting in the wings, Cancelo has to certainly up his game.
The post Three Winners & One Loser as Portugal Edge Past Ghana appeared first on The12thMan.